July 15, 2018
Posted by:

Info Harrington

Category:

News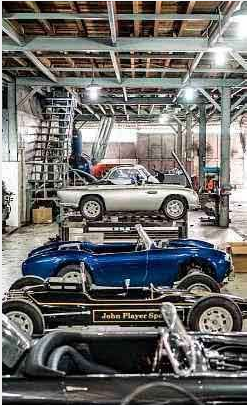 It's been well over a year since I decided to put bumpers back on the Aston and it's been away at Mitchell Motors in Wiltshire for almost six months being measured, prodded and poked. Parts of it have been removed and photographed, and bodywork patterns have been made, with images sent off to Ho Chi Minh City (formerly known as Saigon) in Vietnam. It's here that Harrington Group has its 32,000sq ft factory making 300 different classic-car bumpers and a growing range of half-scale replica cars.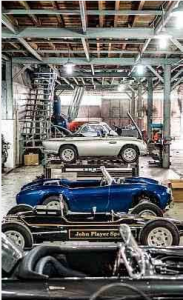 Of course, I could have bought unfinished steel blanks, but once tailored, chromium-plated and fitted, they'd cost four times the £1650 of these stainless-steel Vietnamese-made examples. And, since we've even been to the trouble of creating a wooden buck for the back of the car, there's no excuse for getting it wrong. Well, that's the theory.
Ly Phan, managing director of the Harrington Group, told me as she sipped a coffee in my kitchen: 'There are some rivals making stainless bumpers, but they aren't as good as ours.' Hang on: 'In my kitchen'? Yes. Phan was in Britain a few months ago and stopped off for a chat and to collect the rolled-up pattern for the rear bumper, which she was taking back as hand luggage. This was a fairly serious undertaking, for the big cardboard tube was almost as tall as she is.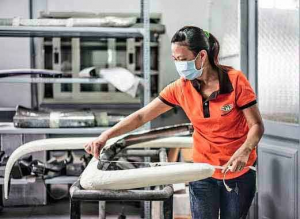 Harrington was formed in 2003 by Phan and her ex-partner Nathan Redfearn. He'd worked in the classic car industry and could see the advantage of Vietnam's local craft skills and low wage rates in creating labour-intensive parts for old cars. I questioned Phan closely over my fears that this might be a Vietnamese sweatshop employing underage workers in terrible conditions.
'We have 60 people employed,' she says, 'and we are expanding steadily. We are about 30 minutes from the centre of Saigon and that is the beauty of the works, where there are old English Wheels and the skills to use them.'
Phan recounts how they were initially determined to pay double the average wage of about £100 a month. 'We paid them £200 at the end of the month and the next day they didn't show up,' she says. 'That was lesson one… Now we pay around £150 a month plus insurance and healthcare. There is employment law in Vietnam and I am confident about how we treat our employees.'
Harrington's most skilled panelbeater does all the bodywork on the scale replicas and earns £650 a month.
A couple of nights ago I watched my savings account empty into PayPal. We'll see if it was money well spent when the bumpers arrive.
From top Andrew's DB5 was measured in Wiltshire and never left the UK. Meanwhile, patterns were sent to Vietnam, where new bumpers were made up. The company also builds half-scale replica classics.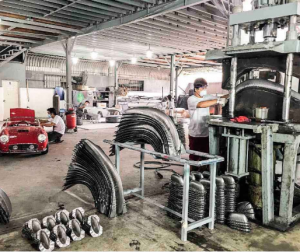 Source: www.drive-my.com