Cobra 289
Half Scale Muscle
Where British design meets Ameican muscle; a tribute to Carroll Shelby's masterpiece

In standard tune, the cars can reach 47 kmph. A speed restrictor can be fitted for younger drivers. The cars use approximately 1.5 litres of petrol per hour. Power: Max power/RPM: 5.0kw/8500rpm. Max Torque/rpm: 6.6Nm/6500 ±500rpm. Idle speed: 1500/100 rpm.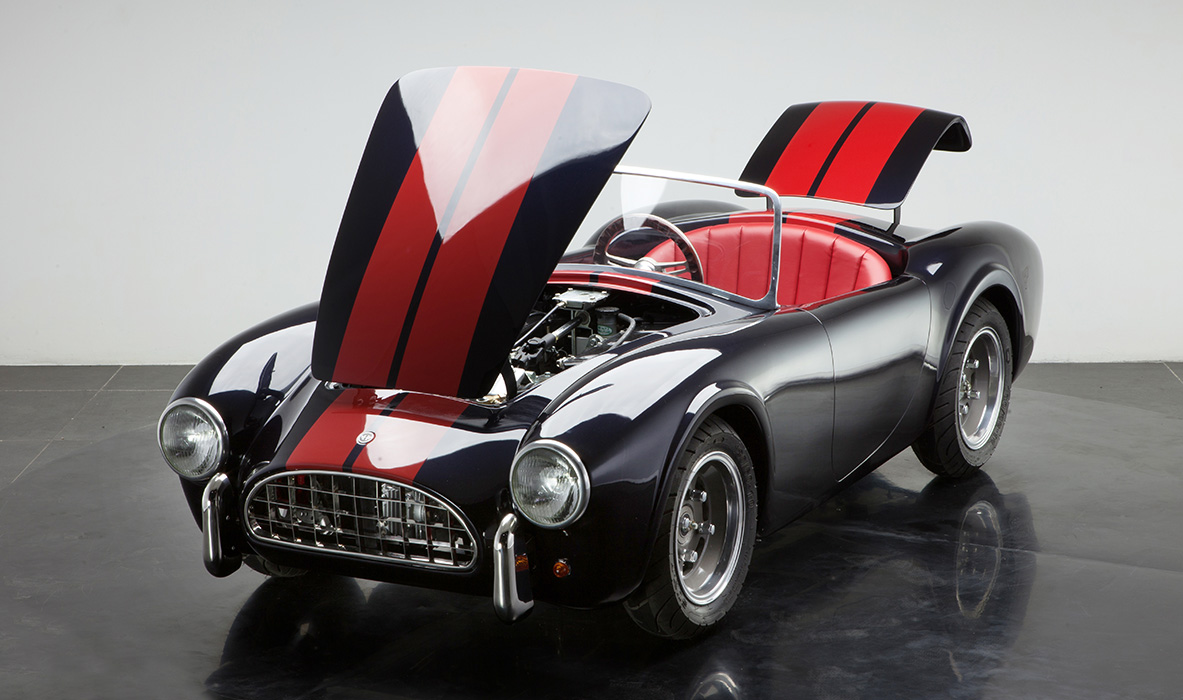 Jig-built steel box section chassis painted/powder-coated.
Composite GRP body and floor pan.
Steel suspension swing arms.
Aluminium/tensile steel front stub axles. Aluminium front hubs. Steel rear-drive shafts/rear hubs. Rudder donut rear half shaft UJ's.
Front-mounted engine. Rear wheel drive.
Engine: 110cc air-cooled 4 stroke single cylinder petrol engine.
Transmission: 3 speed semi-automatic gearbox + reverse (no clutch, sequential gear change).
Working lights, horn, electric starter key and indicators: 12 Volt.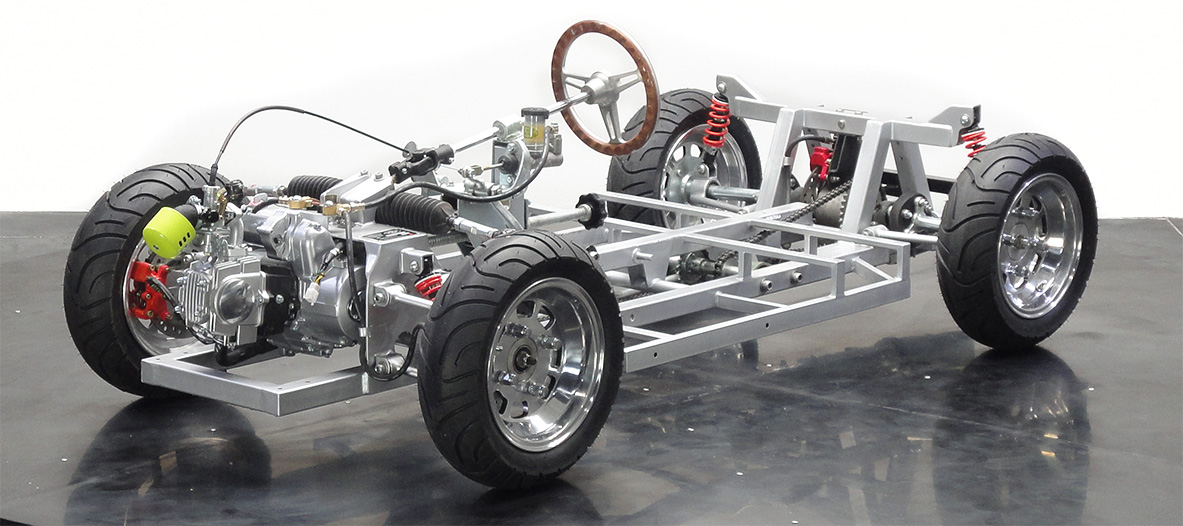 Fully independent suspension all round. Double wishbones at the front, single at the rear.
Fixed differential with rubber donut rear UJ's (similar to series 1 Lotus Elan).
Adjustable gas shock absorbers all round. Vented disks with dual pot Brembo callipers front and rear (2 front + single rear giving 66/33 bias braking.
Hydraulic split braking system with twin outlet master cylinder.
Rack-and-pinion centre mount steering rack L<3.5>R.

The cars are fitted with adjustable pedals to facilitate young drivers and tall adults comfortably.
Vinyl or leather-trimmed GRP seat. Authentic dashboard and central steering design. The switchgear includes ignition pos/key, indicator, horn and lights. Neatly positioned levers release the bonnet and boot within the cockpit. The exterior is painted in automotive DuPont paint with your choice of colour. All we require for customisation is a DuPont colour code.
All brightwork and exterior trim are consistent with Harrington's world-leading standard applied to all our other classic car products.
Length: 2500mm.
Width: 1030mm.
Height: 750mm.
Weight: 220kg.
Ground clearance: 160mm.