July 13, 2015
Posted by:

harrington

Category:

News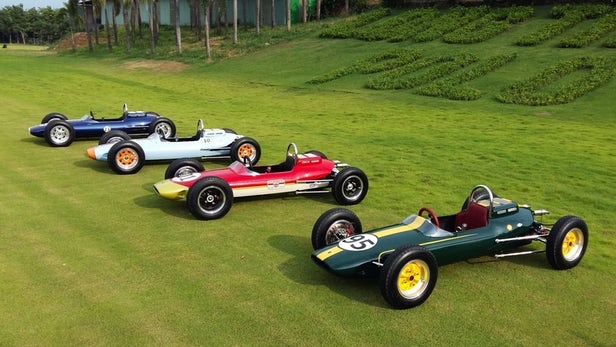 Source: New atlas
Half-scale cars are small enough and timid enough to stage a mini Grand Prix in your own backyard www.groupharrington.com
The Harrington Group's half-scale cars have been around for 13 years, with the entire fleet of classic look-alikes being completely reengineered two years ago and a new level of sophistication added to the designs. The latest release of a two-thirds scale 1960s Lotus 25 F1 lookalike could prove to be much more than just an exquisite toy for the wealthy though. It's a low cost race car which could form the basis for a whole new sport with more relevance than karts.
There's something incredibly endearing about a half-scale car. Like a baby or a kitten or a puppy, the first term you'll invariably hear from any nearby females is "cute." When I first wrote about them with the sale of the Pratte Collection in January, a colleague sent me a note saying, "nice job on the story with the poodle cars" and the term seemed so appropriate that we've all been referring to them as poodle cars ever since.
Poodle cars are small enough and timid enough to stage a mini Grand Prix in your own backyard, and they're an ideal initial experience for a child to develop a first-hand relationship with inertia, momentum, yaw and traction when the human learning system is at its most receptive and can be calibrated for life.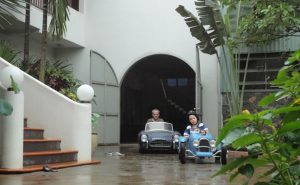 It is no coincidence that Ayrton Senna, Michael Schumacher and Lewis Hamilton had karts at four years of age, while Fernando Alonso and Sebastian Vettel both started at three. Every Formula One driver on the grid in 2015 began driving a kart at an early age, and every champion since Damon Hill has learned his race craft in a kart (Damon cut his teeth motorcycle racing). For much more on the subject of the early development of motor coordination skills, see our article on Ayrton Senna's Kart.
Those childhood lessons don't just apply to going racing, because like riding a bicycle, once the skills have been imprinted on the brain at an early age, you'll never forget what to do when your car starts to get sideways on a wet or icy public road several decades hence. Think of it as an insurance policy for your beloved "works replicas."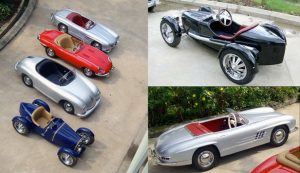 Some of Harrington Group's first generation half-scale cars, it isn't hard to recognize the classic lines of yesteryear and the natural appeal to sports car lovers(Credit:
Harrington Group
)
Survey the wares on offer from the elite automotive auction houses (RM-Sothebys, Gooding & Co, Bonhams) at Goodwood, Retromobile, Pebble Beach or Amelia Island and you'll notice many half-scale versions of classic cars in the listings among the full scale Jaguar E-Types, Jaguar XK120s, Mercedes-Benz 300SLs, Bugatti T35s and Porsche 356s and you'll regularly see the Harrington Group name listed as the manufacturer. The cars pictured above are from Harrington Group's first generation half-scale cars and it isn't hard to recognize the classic lines of yesteryear and the natural appeal to sports car lovers.
Indeed, in my subsequent discussions with Harrington, it seems that the company's older cars regularly fetch far more at auction than they did new. That's mainly due to people being unaware that unlike the aforementioned full-scale exotica which was only produced in limited quantities many decades ago, the Harrington Group still produces half-scale cars and has significantly upgraded the sophistication of the newer product compared to the slightly older go-kart-based cars which regularly appear at auction.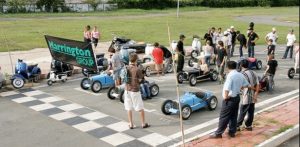 Harrington Groups early days saw the production of Bugatti T35 lookalikes during the half-scale cars' first generation, enough for a full grid during a staff family day(Credit: Harrington Group)
Harrington's stainless steel retro-car bumper business began first and resulted from Redfearn's years of experience restoring classic cars and recognizing the opportunities in the marketplace.
"Buying bumpers for classic cars was either very expensive or impossible before we started production of our stainless steel bumpers," he told us. "You will never see a Citroen DS with rusty bumpers or a Rolls Royce with a rusty grille because those parts were made on the original vehicles from stainless steel, so we chose to make our bumpers in stainless steel too."

"In 2002, we invested in the presses and tooling to produce stainless steel bumpers, and we now produce bumpers for over 300 classic cars plus kick plates, headlights housings, grills, and even fuel tanks, and the classic parts business has grown exponentially," he continued. "We're now shipping more then 300 sets of bumpers every month and as the interest in classic cars grows, so does our business.
"We focus on quality and our stainless steel is polished to the same finish as chrome, so we're producing parts that look identical but are much stronger than the originals, withstand damage better, and they're much easier and cheaper to repair if you do damage them.
"Stainless steel does not rust so we can confidently offer a lifetime anti-corrosion warranty. Centuries from now, if a car fitted with our bumpers has ended up in landfill, all they'll find will be our bumpers."