January 31, 2014
Posted by:

harrington

Category:

News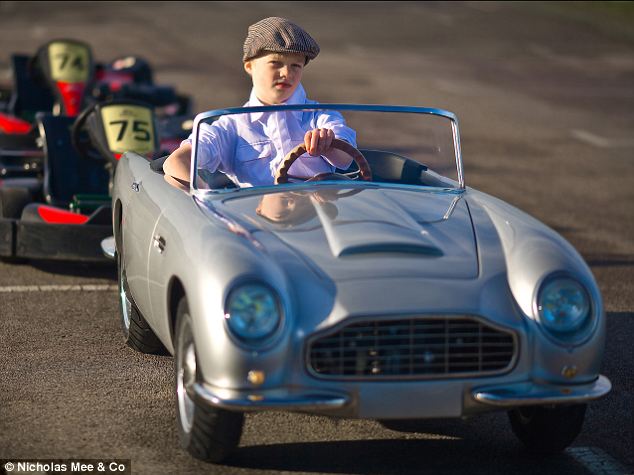 Source: Daily mail
Boy racers take on a whole new meaning with a new version of 007's favourite car.
The 'DB Junior' is a fully functioning petrol-engined  classic sports car for children aged 10 and over inspired by the British superspy's legendary Aston Martin DB5 of the 1960s.
The price of a modest family saloon – the junior Bondmobile is a convertible rather than a coupe but has a top speed of 46mph – which can be restricted downwards.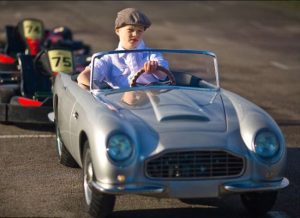 Boy racer: Classic junior car has been designed the miniature sports car to inspire 10-year-olds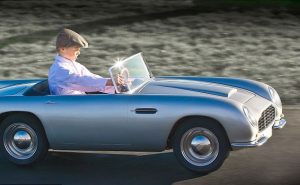 The DB Junior, which looks identical to a 1960s model favoured by James Bond, is complete with leather seats
Measuring just 8ft 2 inches by  3ft 4 inches and standing just  2ft 5 inches high, the 'DB Junior' it is powered by a 110cc four-stroke petrol engine linked to a semi-automatic 3-speed gearbox plus reverse  with a key-operated electric starter.
But the fully adjustable pedal box means it can accommodate drivers of 6ft  and aged from 10 to 80-plus.
However cannot be driven on public highways so driving is restricted to private land or tracks.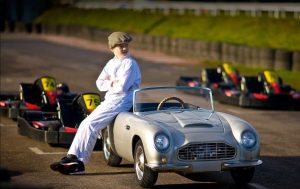 Power: It can reach 45mph and costs the same as a Ford Fiesta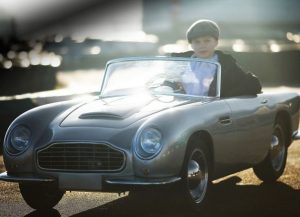 The toy-sized vehicle model is designed for children but can fit a driver up to six feet tall
It has composite coachwork on  a steel box section chassis, 10-inch wheels including a spare,  leather or vinyl seats, a wood-rimmed steering wheel and hydraulic Brembo disc brakes.
And unlike the big-screen Bond versions which appeared in early 007 movies such as 'Goldfinger' and 'Thunderball' with Sean Connery and more recently with Daniel Craig in 'Skyfall', this one does not have machine guns or an ejector seat.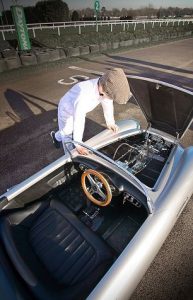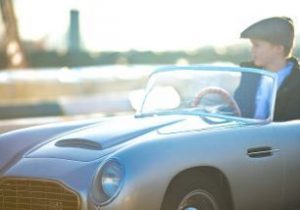 WILL IT FIT IN JAMES BOND JUNIOR'S GARAGE?
DB JUNIOR
Length: 8ft 2 inches
Width: 3ft 4 inches
Height: 2ft 5 inches
Weight: 97kg
Drivers: From age 10
Engine: 110cc four-stroke petrol quad-bike engine
Gears: Semi-automatic 3-speed, plus reverse
Top speed: 46mph (can be restricted downwards)
Fuel: Circa 120mpg equivalent
Features: Fully adjustable pedal box to accommodate drivers of 6ft
Also 10-inch wheels including a spare, leather or vinyl seats, wood-rimmed steering wheel, hydraulic Brembo disc brakes, key-operated electric starter
JAMES BOND'S ORIGINAL ASTON MARTIN DB5
Price new in 1963: £4,175 with purchase tax
Value today: £450,000-plus
Length: 15ft
Width: 5ft 6 inches
Height: 4ft 3 inches
Weight: 1.4 tonnes (1466kg)
Engine: 3995cc 'straight-six' cylinder
Power: 282bhp
Gears: Four-speed with over-drive (later 5-speed)
Top speed: 148mph, 0-60mph, 7.1secs
MPG: 20mpg
Range: circa 330miles.
(The convertible DB5 cost £4,490 with purchase tax ub 1963. Value now £650,000-plus. A DB5 used in the Bond movies is worth around £3million)