September 6, 2010
Posted by:

Diệu Ly

Category:

News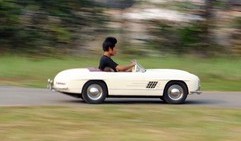 Source: Pistonheads
If you can't afford your dream garage – think smaller
We know it can be a problem funding your dream garage with budget, but we think we've found a solution – or half a one at least, because these fab-looking half-scale classic roadsters can be yours for a pop.
They're made by a company called Harrington Group, children's cars are accurate replicas of some of the finest roadsters from the golden age of motoring.
The cars have composite body work and tubs, and are powered by 50cc kart engines. They also get proper brakes, electric starters, reverse gears and working lights and horns. But the best bit, according to the blurb and pictures, is they're big enough for adults as well as kids.
So far so good, but there's always a 'but… '
We rang the UK number on the Group Harrington website, and found ourselves speaking not to a British classic car engineering firm with an entrepreneurial streak, but a very helpful fellow in Vietnam where it turns out the cars are manufactured.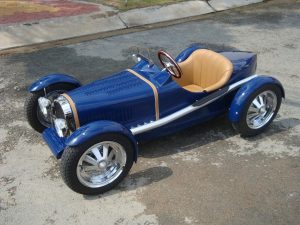 The mini machines were 'outed' on Gizmodo last week, since when (he said) the company's website has been reeling from the weight of global traffic, and their email inbox is apparently stuffed full to bursting with eager enquiries.
However, we can confirm the cars are available for export to the UK, but there's already a two to three month waiting list.
Interestingly (we thought!) Harrington is also getting ready to launch an electrically-powered Isetta bubble car replica. They're currently in the prototype stage, and the new production car has been copied from a genuine late '50s Isetta belonging to Harrington Group's boss.
Apparently the Isetta was exported to Vietnam in very limited numbers, but most were destroyed in the Vietnam war leaving just a handful surviving. Something that could be about to change, by the look of things.
If you're interested, you can email Harrington via their website, but be patient as our man told us it's going to take them a while to get through the backlog…